Eliopoli!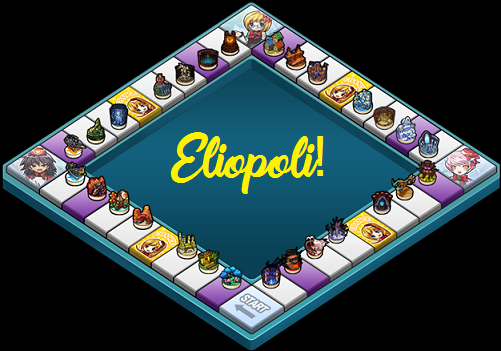 Event period: 11/7/2018 (9 AM) until 8/8/2018 (8:59 AM)
During the event period, Roll Roll Elioble icon will be shown and when the icon is clicked, Roll Roll Elioble board will be shown.
Rewards:
You can exchange the Eliopoli Coins you collect for the following items via the Eliopoli event interface.
Random Cube: Eliopoli Amount of Coins Required: 1
10x Magic Stone of the WiseAmount of Coins Required: 1
Ice Sculpture Heater Cube (Mariposa Requiem, 5 unit(s)) Amount of Coins Required: 3
Ice Sculpture Heater Cube (Mariposa Requiem, 10 unit(s)) Amount of Coins Required: 4
Winter 2017 Weapon (Lemonade Cube) Amount of Coins Required: 5
Winter 2017 Top (Lemonade Cube) Amount of Coins Required: 4
Winter 2017 Leg Guards (Lemonade Cube) Amount of Coins Required: 4
Winter 2017 Gloves (Lemonade Cube) Amount of Coins Required: 3
Winter 2017 Shoes (Lemonade Cube) Amount of Coins Required: 3
Winter 2017 Hairstyle (Lemonade Cube) Amount of Coins Required: 5
Winter 2017 Hat (Lemonade Cube) Amount of Coins Required: 5
Cube containing Lucky Charm Gold Ggogi Amount of Coins Required: 6
Summoning Stone: Gold Ggogi Amount of Coins Required: 6
Random Cube containing Upgrade Scroll (Lv.8-11) Amount of Coins Required: 6
To overview