[7-20/8/2019] Event: Aranka's Attendance Check!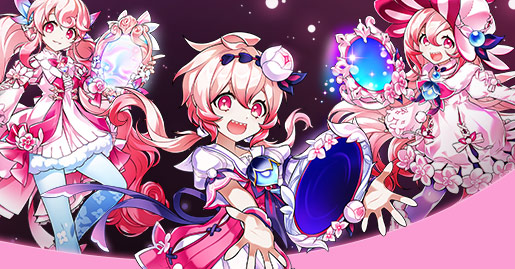 Aranka has a mysterious rewards list, and you're on it!

Event period: from 7th August (9 AM CEST) until 20th August 2019 (11:59 PM CEST).

Here's how it works:
During the event, an event icon will be displayed at the top of the screen.
As soon as you have been logged in for 30 minutes, you will receive your daily reward (1x per account) by clicking on the icon. The item will be placed in your letter box.
The tooltip for the event icon will also show you when your next reward will be ready for collection.
You can collect the reward for the previous day on the day that follows it.
The time will be reset each day at 0 AM.
To guarantee your rewards, you will need to carry out the attendance check on 12 of the 14 days.
The letters will be deleted on 28th August 2019. So don't forget to collect your rewards!

Rewards
| | | | | | |
| --- | --- | --- | --- | --- | --- |
| 1st day | 2nd day | 3rd day | 4th day | 5th day | 6th day |
| [CoBo] Bag containing special Potions | [CoBo] Cube containing 20x Battle Elixir | [CoBo] Event Dungeon Admission Tickets Selection Cube | [CoBo] EXP Medal Cube (100%, 1 day) |  Luriel's Gloomy Ticket | [CoBo] Giant Magic Stone Random Cube (refined/superb) |
| 7th day | 8th day | 9th day | 10th day | 11th day | 12th day |
| [CoBo] Dungeon Admission Ticket Cube | [CoBo] Drop Rate Medal Selection Cube (50%, 1 day) | [CoBo] Cube containing various Magic Stones of the Wise | Luriel's Poru Seal (gold) | Luriel's Warped Time-Space Key | [CoBo] Attendance Reward Cube |

Possible cube contents:
[CoBo] Bag containing special Potions (full contents)

30x Luriel's Bingsu Dessert
30x Luriel's Fossil Potion
5x Luriel's Potion of Resolve

[CoBo] Cube containing 20x Battle Elixir (full contents)

20x Luriel's Battle Elixir

[CoBo] Event Dungeon Admission Tickets Selection Cube (contents selectable)

3x Luriel's Belder Academy Library Pass
3x Luriel's Attendance Certificate for the Belder Academy Sports Day

[CoBo] EXP Medal Cube (100%, 1 day) (full contents)

1x Luriel's Experience Medal (100%, 1 day)

[CoBo] Giant Magic Stone Random Cube (refined/superb) (random content)

1x Refined Giant Magic Stone
1x Superb Giant Magic Stone

[CoBo] Dungeon Admission Ticket Cube (full contents)

10x Luriel's Secret Dungeon Entry Permit
10x Luriel's Hero Invitation
20x Luriel's Elyanod Guardian Invitation

[CoBo] Drop Rate Medal Selection Cube (1 day) (contents selectable)

1x Luriel's Drop Rate Medal for Add's Energy Fusion Theory (50%)
1x Luriel's Drop Rate Medal (50%, 1 day)

[CoBo] Cube containing various Magic Stones of the Wise (full contents)

20x Luriel's Magic Stone of the Wise
20x Luriel's Warped Magic Stone of the Wise

[CoBo] Attendance Reward Cube (full contents)

1x [CoBo] Bag containing special Potions
1x [CoBo] Cube containing 20x Battle Elixir
3x [CoBo] Event Dungeon Admission Tickets Selection Cube
1x Cube with Experience Medal (100%, 1 day)
3x Luriel's Gloomy Ticket
1x [CoBo] Giant Magic Stone Random Cube (refined/superb)
1x [CoBo] Dungeon Admission Ticket Cube
1x [CoBo] Drop Rate Medal Selection Cube (50%, 1 day)
1x [CoBo] Cube containing various Magic Stones of the Wise
1x Luriel's Poru Seal (gold)
3x Luriel's Warped Time-Space Key


Cubes from the [CoBo] Attendance Reward Cube have the same contents as listed above. Get ready for Attendance Check!
The Elsword Team
To overview